Kerry, who blogs under the name of Kid Giddy, is one of my favorite paper piecing pattern designers. I have done several of her designs and when she came out with Land of Magic quilt, I knew I needed to be a part of that as well. So I was pretty excited when Kerry asked me to participate in Land of Magic sew along (here are the details) I chose to do a mermaid block but with a little twist.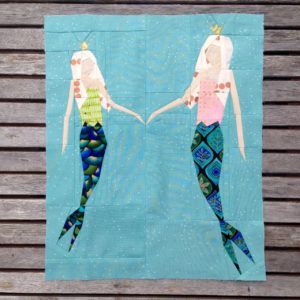 I decided I wanted to make a pair of mermaid sisters and I used the same pattern to create both characters. The mermaid on the right is true to the pattern and the one of the left has been printed at 85% and mirrored.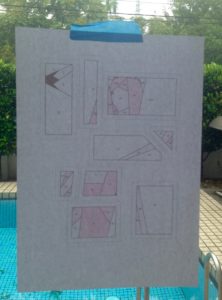 I'm sure you can mirror the pattern when printing it, but I don't know how to do that, so I did it old school style. I taped the pattern page to the window (you can always use a lightbox) and traced the sections using a ruler and a pencil. These lines need to be exact because you will sew on this side.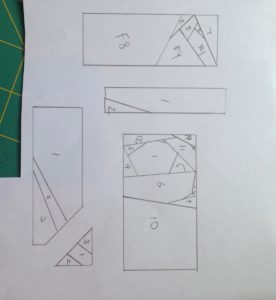 After tracing, I cut the pieces out and after sewing each section (be sure to always sew on the pencil drawn lines when mirroring a pattern), I squared them up while maintaining a 1/4inch seam allowance all around each section.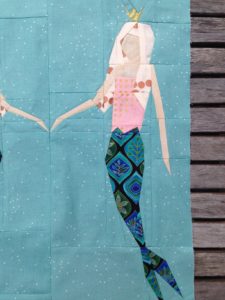 I wanted to make it look like the mermaids were holding hands so I cut the front of each block shorter and added extra pieces to the top and the bottom of the left mermaid to match the size of the one on the right.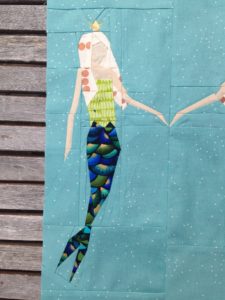 Although I haven't managed to be as precise with this paper piecing pattern as I usually am (completely due to my own issues and serious lack of extra background fabric), I love this so much! I am planning on making this into a cushion and cannot wait to share the final project with you in the next couple of weeks.
I hope you are able to join this sew-along with us! Be sure to check Kerry's blog for a chance to enter her big giveaway. You can find the Land of Magic Quilt pattern in Kerry's Etsy store as well as at Fat Quarter Shop, who also has quilt kits available with the new Magic fabric by Sarah Jane Studios.