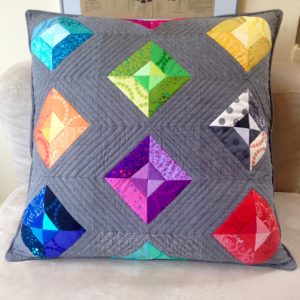 I've had a crazy month, like Oh My Gosh, what did we do, to what deity should we speak to in order to get bad juju lifted from the family? Needless to say, my poor sewing machine has been gathering dust, forgotten in the chaos of emotional and physical health turmoils. And with it, laying in the dust was my creativity and my sewjo. Towards the end of August, the girls from Modern Makers Retreat had asked me if I wanted to participate in their cushion palooza and I jumped at the opportunity to flex my creative muscles. The idea for "Treasure Chest" was born.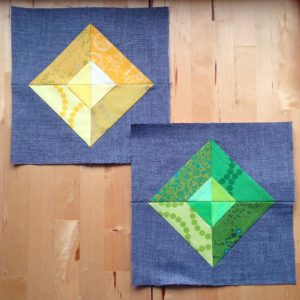 As I don't do anything small scale, I decided to make a pillow case for a 27 square inch floor pillow that was in bad need of a makeover. I knew I had to do something rainbow-y. Are you surprised??! After much back and forth, I finally settled on a marriage between Alison Glass, Lizzy House and Kona solids on a grey background. I designed a simple paper pieced pattern that made up the gemstones and then quilted each gemstone in matching Aurifil thread.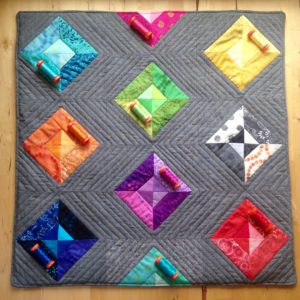 Because this pillow will be heavily used as a floor pillow (that's the plan but I'm worried once even one kernel of popcorn touches it, I will be removing it from people and placing it behind glass), I used pre-quilted heavy weight fabric as the backing, it also gives a pillow very nice structure.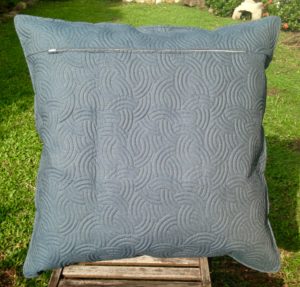 So this is my entry for the Modern Makers Retreat Cushion Palooza, I love my giant squishy Treasure Chest!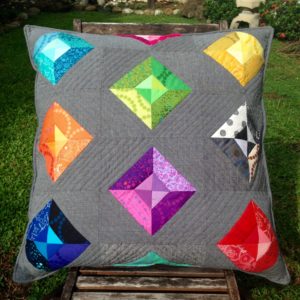 "Treasure Chest"
Size: 27 inch square
Fabric: Lizzy House, Alison Glass, Kona Solids and unknown grey textured fabric for background
Pattern: Self Drafted paper pieced
I hope you join the contest, I can't wait to see more entries (but not TOO many more, I do want to win you know 😉 )
Check out all the details here on the Modern Makers blog. There are some awesome prizes up for grabs (trust me you definitely want to win these prizes.) You can also see the entries roll in on the IG hashtag #mmrcushionpalooza.
5