I have no less than 4 really important sewing projects that have to be done within 14 days, so naturally I spend my precious limited sewing time on something completely unrelated. That is just how much brain works, once an idea gets in there, I must do something with it!
I have come across Folded Star before but I have never tried this technique before and it looked intriguing. I followed a tutorial written by Pink Pony Design over at Moda Bake Shop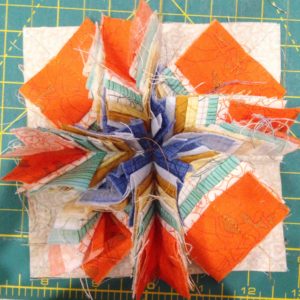 It looked like a big threaded mess before I started folding everything!! I halved all the measurements, to end up with a circle 5 inches in diameter. The size is perfect for  Make Modern magazine #mmminimini contest and although the deadline is June 20th, I swear I will not make anymore quilts! (Or at least until all of my other projects are done :))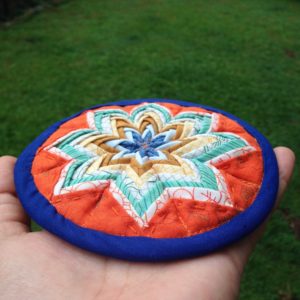 This mini mini has the most wonderful texture and yet it's flat enough to put a cup of tea on (as if I would actually use it for that).  I used my Carolyn Friedlander scraps, I still really love this color combo, though I was REAAAALLY tempted to make this in a rainbow scheme. Naturally.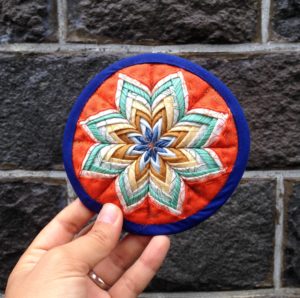 Fun project but certainly not quick. Between choosing fabric, layouts, cutting, pinning, folding, stitching, quilting, binding it took me a good portion of a whole sewing day. But I do love the result! Have you tried making this or prairie points Somerset quilt (that is on my list too)?
Pattern: Fancy Folded Star 
Fabric: Carolyn Friedlander
Pieced and quilted with Aurifil
Size: 5 inch diameter