Make Modern Quilting Magazine is hosting a contest that challenges the participants to make Mini mini quilts (quilts smaller than 6 inches). I'm all about miniature things, so I wanted to give this a try before some of my bigger projects start at the end of this month.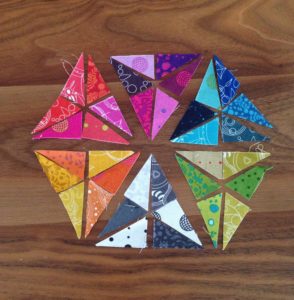 Because I like to make my projects as complicated as possible, I decided to miniaturize a Prismatic Medallions pattern from Robert Kaufman website. I reduced the size by 4, cutting each triangle to 1″ by 1.75″
I used Alison Glass Sunprints fabric, because, well, I'm obsessed with her fabrics and also because it's such a good variety of colors. I have a sickness where I am absolutely incapable of getting rid of any size of AG scraps. This was both a great project to get rid of these scraps and to create even smaller ones..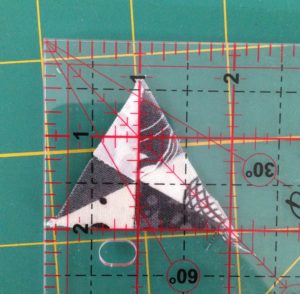 After all the seam allowances and some very frustrating seam matching, the mini mini quilt came to a teeny tiny 2.5 inches by 3 inches hexagon. It took me a few hours from the idea to the completion, perfect for a quick and satisfying project! I might need to make one every week until the challenge is over on June 20th.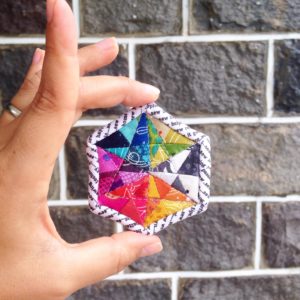 The hashtag on Instagram is #MMminimini, go check out everybody's entries and hope you will enter too!
MiniMini Prismatic Medallions
Fabric: Alison Glass sunprint plus low volume text print
Pattern: Prismatic Medallions
Size: 2.5 inches by 3 inches
Quilted and pieced with Aurifil thread