This mug rug was made for Starbucks Mug Rug Swap hosted through Instagram. My partner has mentioned that she liked hearts and the swap was right around Valentine's day.  In a particular stroke of luck, Nicole of Lillyella has allowed me to test a "Love Story" pattern for her and so the Double Heart mugrug was born.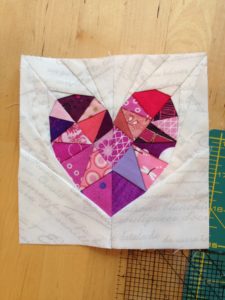 I tried to stick with my partner's colors of preferences, which were purples/pinks and blues/greens. I love that color combination myself, so I had plenty of fabric scraps to do the job. Love Story pattern gives two options for hearts, I wanted to do both for extra visual delight and used 6″ block version for both hearts.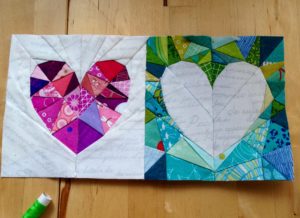 In order to make things extra difficult for myself, I used VERY directional text fabric and that nearly drove me insane, many curse words were uttered as I kept sewing the text upside down or sideways.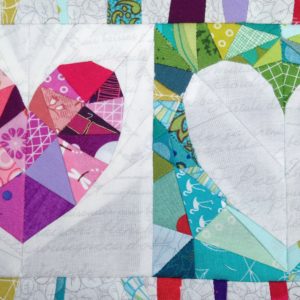 I wanted something to tie both halves together, so I went with an improv boarder which mirrored the colors. The boarder was very fun to do, I wasn't measuring anything, just sewed pieces in different leaning directions.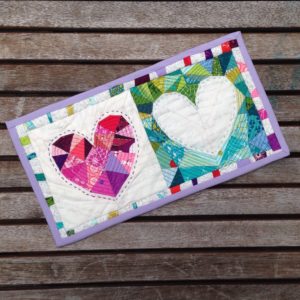 Quilting also mirrored the other half, I hand quilted inside of one heart and outline of the other and machine quilted inside and outside ripples, hopefully creating a feeling of a beating heart. Very fun project to make and Nicole's patterns are a joy! Very clear instructions and very impressive results.
Finished size: 13.5″ by 7.5″ Pattern: Love Story by Lillyella Pieced and quilted with Aurifil