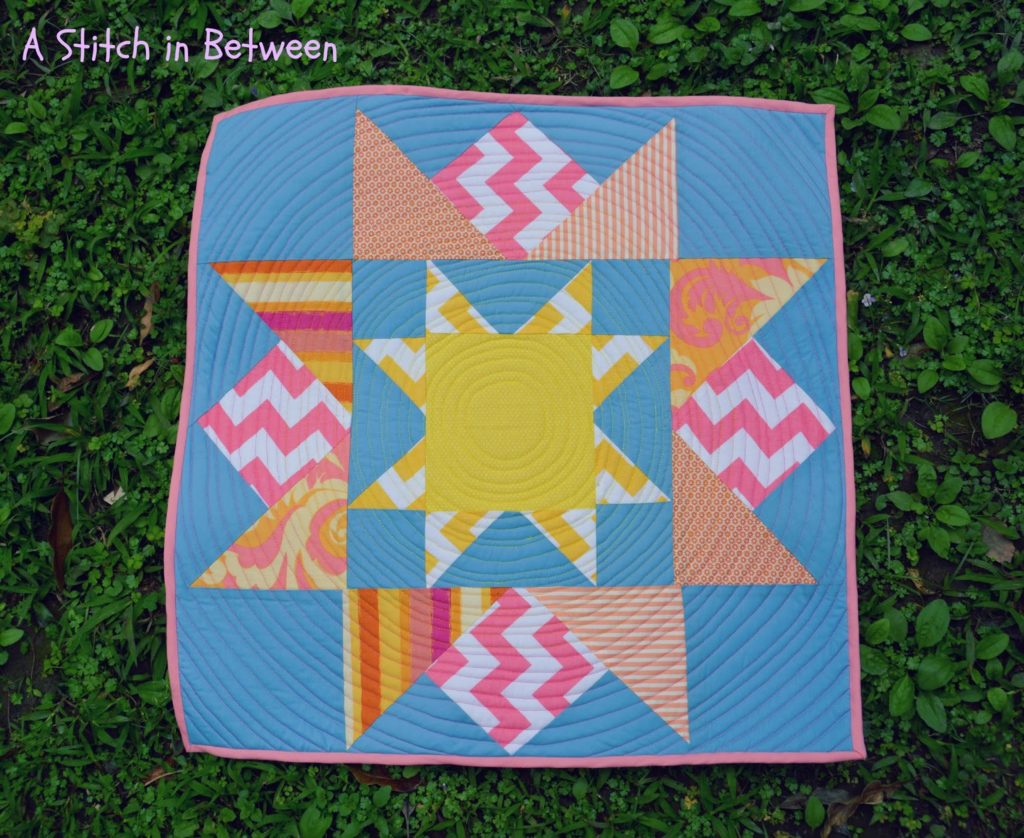 Last month I had an honor to be one of the pattern testers for Alyce of
Blossom Heart Quilts
brand new quilt pattern called Bright Sky. The pattern is so lovely, it's basically a giant one block, lap sized quilt. I made a quilt top from it, which I will share once it gets quilted.
Once Alyce shared with us the final version of the pattern, I wanted to try it again but knew there was no way I could do a full size again that quickly after (I'm a super novice quilter you see and get weak at the knees at the sight of matching corners). So I cheated! I used the pattern (which is in inches) and followed all the same measurements but in cms instead. So where ever the pattern called for a 16.5 inch square block, I cut out a 16.5 cm square.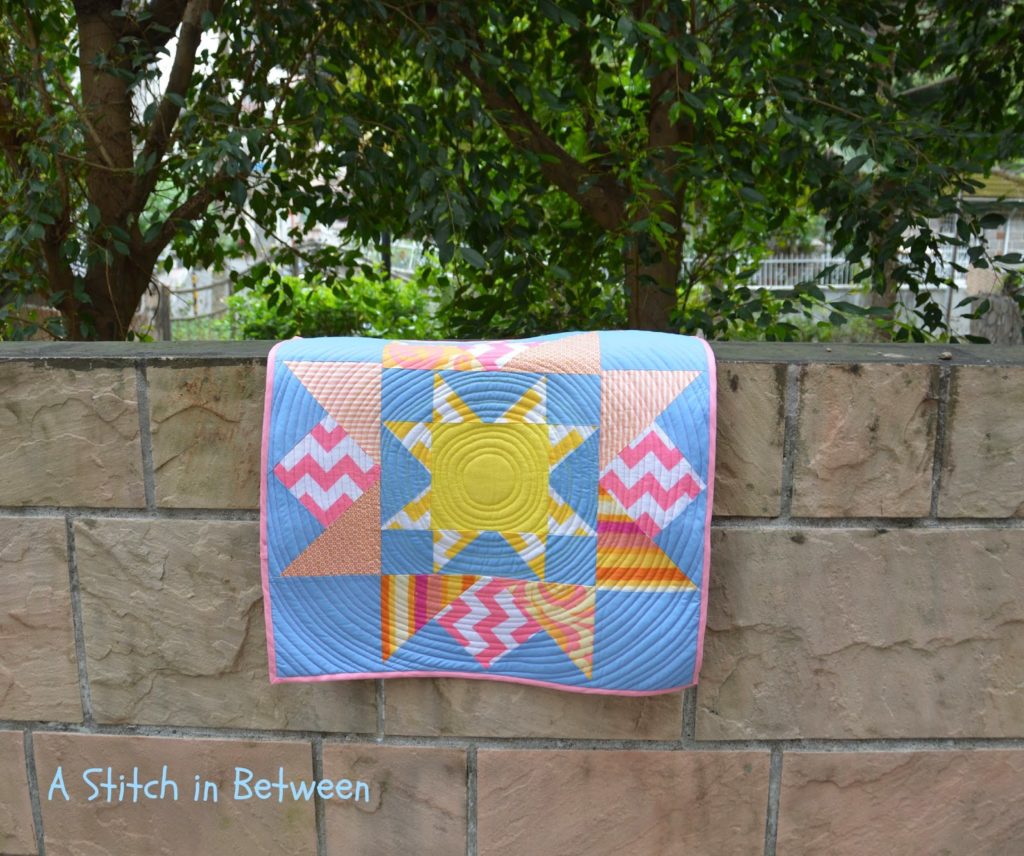 I kept the seam allowance at 1/4 inches.. so can you guess what happened? By the time I got to the outer star the pieces were too big to match up properly, so I cut them down (but not perfectly so). Next time, don't be lazy and do the math! (ok ok MOM) I wanted the quilting to be organic rings, simulating the sun and I totally eyeball the rings.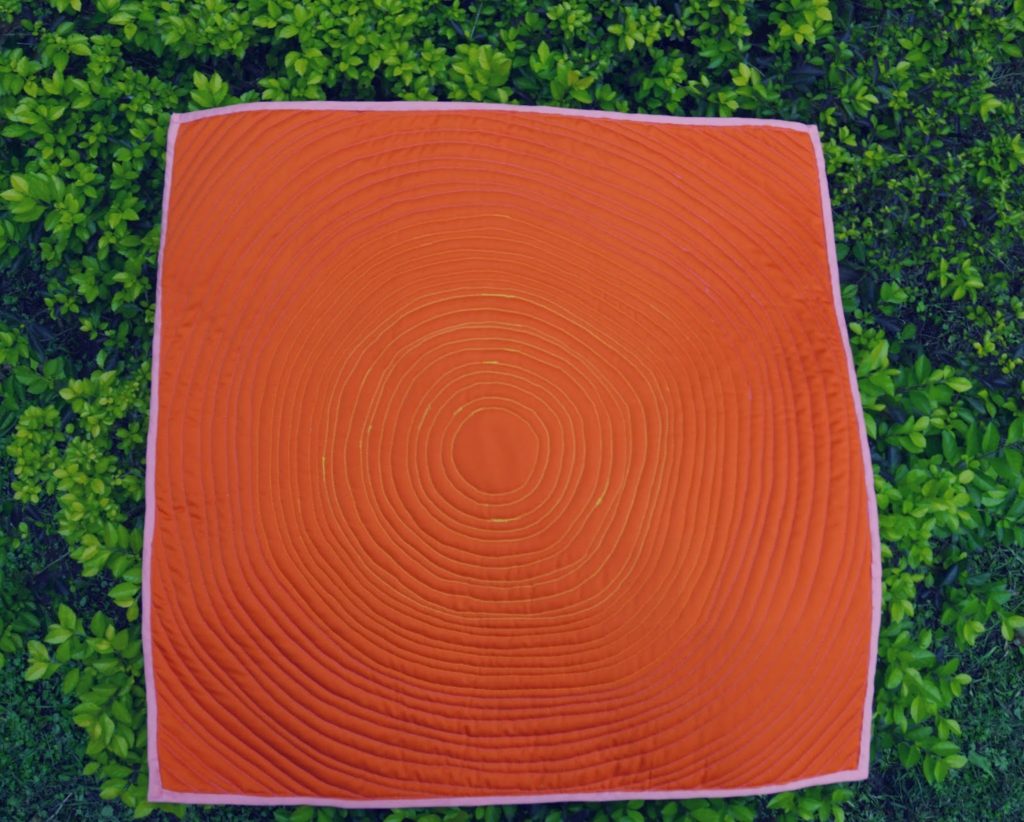 I've been wanting to try this method of quilting so I'm very glad I did that. I think even the back looks like it could stand on its own as an art piece (**pats myself on the back**) You can't really tell from the pictures but I used three different colors of thread, from yellow in the center to orange in the middle and hot pink at the end. I used heavier weight twill on the back, since I knew I wanted to use this as a wall hanging. This did not made my sewing machine's tension very happy but once I figured it out, it worked well!
Is it selfish to really love things you make? I can't wait to hang this up in Aleks' new room (Oh gosh, we are moving in two months, don't remind me!!) It's just so cheerful and so sweet. <3
If you hurry, you can still get the Bright Sky pattern at a 20% discount  It's very clear to read and follow and best of all Alyce is always sooo helpful if you ever need advice!
Now for the quilt stats:
Pattern: Bright Sky by Blossom Heart Quilts
Changes: used cms instead of inches, so basically miniaturized it
Size: 56cm x 56cm
Quilted: yours truly
Fabric: scrap galore from my stash. In fact, the only thing I bought was the background blue!
Note* I hadn't attached the quilting label at the back at the time of this picture, something I try to do everytime I quilt now. Linking with Blossom heart Quilts for Sew Cute Tuesdays!