A few months ago, a friend of mine Sari of @Sariditty was grieving over a loss of a beloved dog. I was thinking of ways to cheer her up and thought of making something quite personal for her. Sari is an avid (and professional) doodler, and late last year she released a coloring book full of her doodles.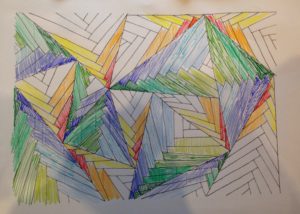 This particular page caught my eye, when I saw it on Nicole of @lillyellasworld feed and the idea was born. Okay, so the picture colored by Nicole looked a lot better O_O I just sketched out the color layout. I wanted to recreate the coloring page in fabric and I had the perfect Botanics line from Carolyn Friedlander to complete the picture.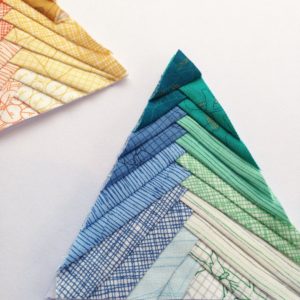 I used two copies of the page and cut up each triangle with seam allowance to use for foundation paper piecing. It was tricky to sew the triangles together, but even with a couple of Y seams it turned out really smooth!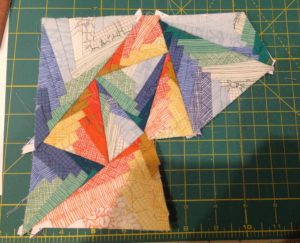 I just cannot get over the amazing texture of this little mugrug. I used the remaining scraps of Botanics jelly roll and the size of the scraps were just perfect for this project. I definitely want to try doing something this geometric again.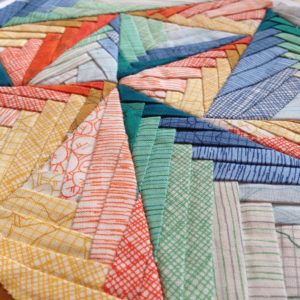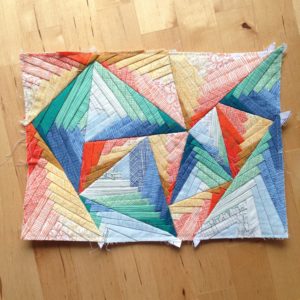 I was going for a couple of things in this design: 1) ombre spread of color, 2) design that looks like it was sketched with pencils 3) visual separation of each triangle but in a color coherent manner.  I'm feel like I achieved all those goals.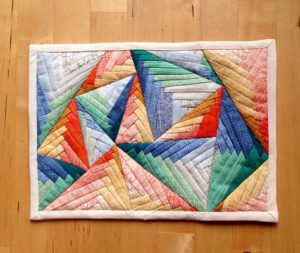 I went with off white binding to represent coloring page boarders and I'm very happy with that decision.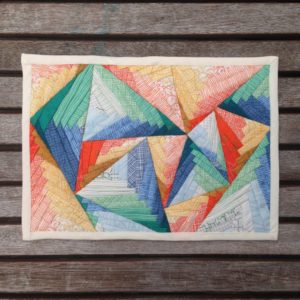 This was such an interesting project for me to make and I think I did Sari's coloring design justice. And hopefully managed to brighten up her day at the same time.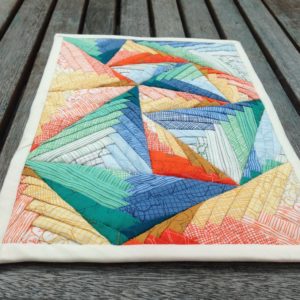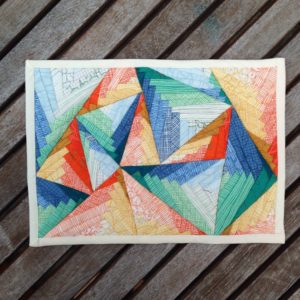 "Sari's mugrug"
Fabric: Carolyn Friedlander's Botanics
Size: 8 x 11 inches
Design: Sariditty's Coloring Doodles modified into foundation paper piecing pattern