Today, I'm participating in RJR Fabrics blog hop called "What Shade Are You?"  Follow through on their blog or on their Instagram account @rjrfabrics
I got into quilting around two years ago and although I mostly focus on mini quilts and mugrugs, an occasional throw size quilt does sneaks through.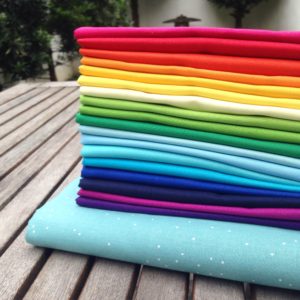 My tastes vary quite a bit, I enjoy trying out different types of projects and techniques and work in different color schemes. However, the love of bold colored rainbow remains constant, so when RJR Fabrics approached me with a blog hop opportunity, I knew it would need to be something colorful and something epic.
A while ago, I made a mini quilt for a swap on Instagram that consisted of 800 1-inch triangles, which I paper pieced together in a very colorful design. The mini had both solid and patterned fabrics. I desperately wanted to recreate the design on a larger scale and with only solids; thankfully What Shade Are You blog hop offered the perfect opportunity. Since cutting 800 triangles by hand sounded like torture to me, I used Sizzix Big Shot Plus and the equilateral triangle die. That really made a huge difference in my sanity. But once I put everything together, I realized that I needed to add 160 more triangles to achieve the size I needed. After I managed to cut those out from the scraps, this baby became my "960 triangles" quilt!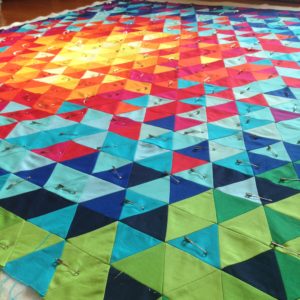 In an extraordinary lapse of judgment, I decided to hand quilt this beauty, but after 1 hour and only about 5 square inches done, I went back to my senses and my trusty machine.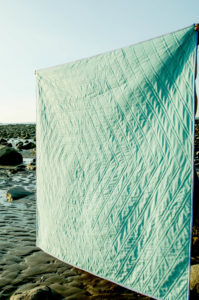 I used 7 different Aurifil Thread colors that coordinated beautifully with RJR fabrics and I love the effect the rippling hexagons created on the back. I have no skills whatsoever in free motion quilting but straight lines? Straight lines I can do!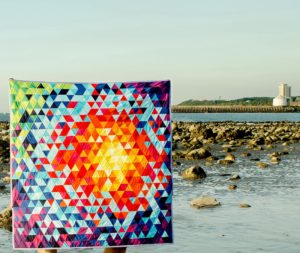 I used the following fabrics in this quilt: Chili Pepper, Electric Blue, Mandarin, Riviera, Indigo, Turks & Caicos, Tourmaline, Citron, Sunny Delight, Carrot, Rhododendron, Cove, Pool Side, Grape, Bougainvillea, Sprout, Kelly Green, Aloe Verde, Hydrangea for the binding and Cotton and Steel Sprinkle in Kimberly Blue for the backing.
I really wanted the quilt to be photographed illuminated by an evening sun to really make the yellows shine, so my two sisters and I organized a quilt glamour shoot on the beach (tough life, I know). Picture us frolicking on the beach (very supermodel like) effortlessly holding the quilt without a care in the world while the camera is snapping away. And definitely don't picture us sweaty and sandy, holding surprisingly heavy quilt with sore arms, avoiding the confused gazes of the beach goers and panicking that the quilt will get wet and dirty before the pictures are done.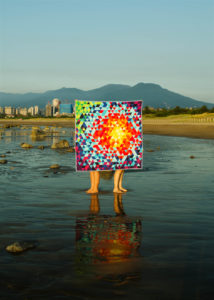 My sister in law was behind the camera, my sister and I were holding the quilt and my niece held the light reflector; the photo shoot was definitely a family affair and I suspect they all might expect some sort of reward for their effort, which is of course my endless love.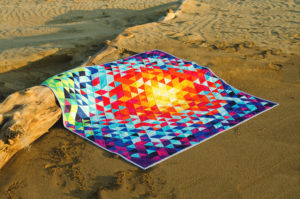 This was such a fun project for me to make and I absolutely loved working with Cotton Supreme Solids, the colors and the quality of fabric are outstanding and I'm so honored to have been asked to make something with them.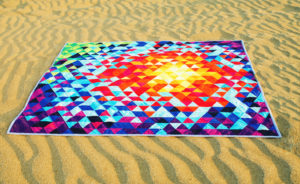 I hope you enjoyed my contribution, hope to see you on my blog or Instagram and thank you again RJR Fabrics for such a wonderful opportunity! And don't forget to check @rjrfabrics or @astitchinbetween for a giveaway of the fabric bundle I used to make this quilt.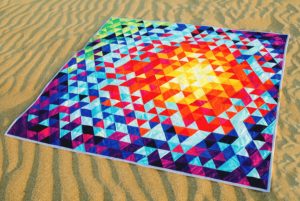 "A Quilt of 960 triangles"
Size: 52" by 52"
Fabrics: RJR Cotton Supreme Solids and Cotton and Steel (listed above)
Thread: 7 different colors of Aurifil
Pattern by A Stitch in Between (not released)