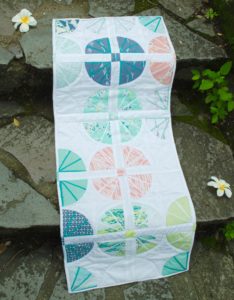 This table runner is one of the three projects made for Art Gallery Fabric Lookbook for Katarina Roccella's new fabric line Pandalicious. The original idea I had for the runner was COMPLETELY different, as it just kept evolving through the process of sewing. I drafted my own paper piecing pattern to resemble paper umbrellas, and originally I was going to keep them full circles but that proved incredibly frustrating and I wasn't very happy with the way it looked.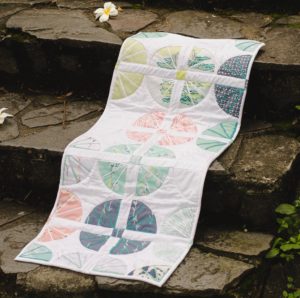 I put it aside and worked on other two projects for the lookbook (see the Lantern Bunting project here), and also looked for inspiration in the new direction (not the band.) One of the challenges I set for myself with these three projects, was to combine my experiences of living in the both East and the West. I wanted to draw inspiration from the techniques and the images that I was surrounded by living in both halves of the world.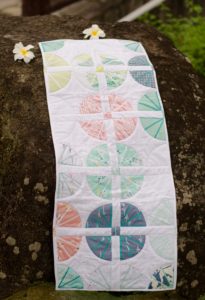 Quilting isn't really popular in the part of Asia where I live, perhaps because it just never gets that cold, so not much need for extra blankets? So to combine an Asian inspired fabric, with a paper umbrella inspired piece into a traditional quilt block seems like such a fun idea. I looked at different versions of New York Beauty and came up with this final design.
One of my favorite parts of this runner is the binding that I aligned to include a matching piece of fabric. I also spent an incredible amount of time fussy cutting some of the blocks, so they all lined up in the same direction or in one extreme case completely matched the original picture (the tree circle). I left some negative space around different spots of the runner and quilted it to reflect the shape of the "missing" pieces.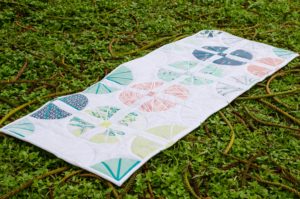 I'm not sure if it's worth my time to make any tutorial for this runner, but I might revisit the paper umbrella design, with some tweaking I should be able to match the vision in my head a little better.
"Umbrella Runner"
Size: 33 inches by 13.5 inches
Fabric: Pandalicious by Katarina Roccella for Art Gallery Fabrics
Pattern: Drafted paper piecing pattern roughly based on New York Beauty