Sometimes, life gets you down. Sometimes, things don't go your way. Sometimes, you just say "I should make a Rainbow AT-AT Walker" and all becomes clear. My son has been asking for Star Wars themed decorations around their room and since he shares a room with his sister I wanted to add some color beyond the grey/black AT-AT Walker color scheme. Ok.. well also, I am midly majorly rainbow obsessed, so I just had to sneak it in.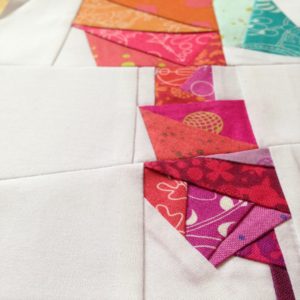 I used Kristy's from Quiet Play free pattern of AtAt. Check her out, she has a ton of unbelievable foundation piecing patterns, including many free Star Wars ones. Fabric choices were very clear, as I had recently ordered the whole line of Alison Glass Sunprints, because I just can't get enough of her bright and saturated colors. It took me a long time to put it together, because I kept being distracted with other projects and then I found the unfinished top draped over a pillow on the kids' reading chair.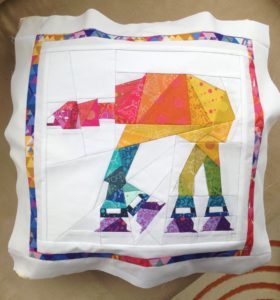 Poor guy couldn't wait any longer and wanted to make it part of the decor, so I put all the other projects aside and finished the pillow.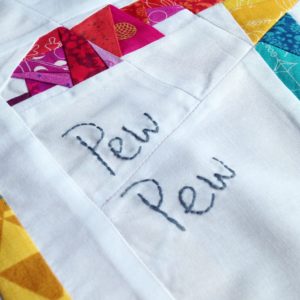 Of course, I had to add something special to the pillow. My husband was bent on the idea of me embroidering Luke hanging on a rope from the belly of the AT-AT Walker (no seriously, like I'm worried he will kidnap the pillow and will add the image of Luke to it when I'm not looking), instead I just added "Pew Pew Pew" embroidered with gray Aurifil floss, because let's face it, there wouldn't be a proper AT-AT Walker without the pew pew pew sounds.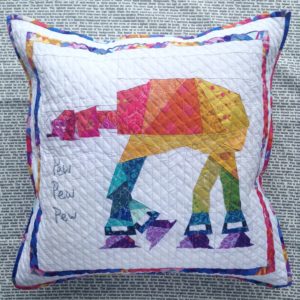 I used fabric from Alison Glass's Ex Libris line to add a border and binding and quilted the top with pale purple Aurifil.
The whole time I was piecing and sewing the pillow together, I couldn't stop giggling over how much AT-AT Walker's back legs look like he is wearing groovy disco pants with some fancy platform shoes. Tell me you see it too??!!
The pillow is now at its proper home, on the reading chair with Yoda and was so well received by my kids !! Of course, now I want to make a whole rainbow Star Wars quilt, and maybe even rainbow version of every fandom that gets loved in this house (Rainbow Enterprise? Rainbow Hogwarts? Rainbow Serenity?)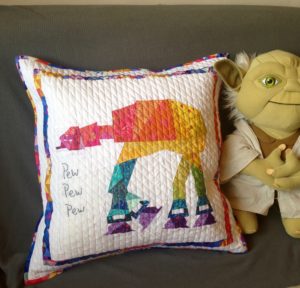 Last beauty shot of the pillow, I'm so happy with how it turned out!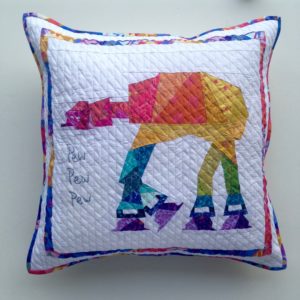 May the Force be with you all!