Welcome to Jenya's Surprise Cyber Baby Shower!! Jenya blogs over at
While She Was Sleeping
and is one of the most encouraging, supportive and sweetest blogging buddies that you could ever meet. Jenya and I share similar background, as we both originally from Russia and both live in a foreign country that we now call home. And most importantly, she is an incredible sewist and makes ridiculously adorable outfits for her daughter and herself, full of pockets, buttons and piping!
Earlier this year, Jenya has announced that her Little Monkey will be a big sister and that baby #2 will be joining us later this fall (or will it be Spring in Australia? you guys are weird) When we found out the news, Renee from
Nearest The Pin
(who happens to be Jenya's real life friend) and I got together and planned a virtual baby shower, since we can't all go surprise her in Australia (links to all participating blogs at the bottom of the post). Here is what I am contributing to the baby #2's nursery!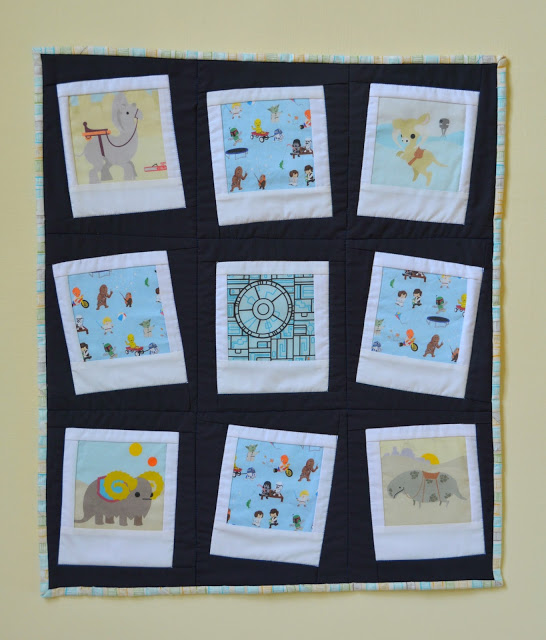 'Baby Star Wars' mini quilt/wall hanging!
I actually started on a different project at first, but my mind kept coming back to this incredible Baby Star Wars fabric that I have been hoarding for a few years. I purchased it on Spoonflower and unfortunately, it is no longer available. The fabric features the cutest baby star war animals, and different characters in their childlike form. Jenya and her family are huge Star Wars fans, so I hope this wall hanging fits right in.
I used this fabulous
tutorial on Polaroid blocks
for the layout, but I did change the size of the individual blocks to accommodate the images, so the finished quilt is about 18″ by 21.5″.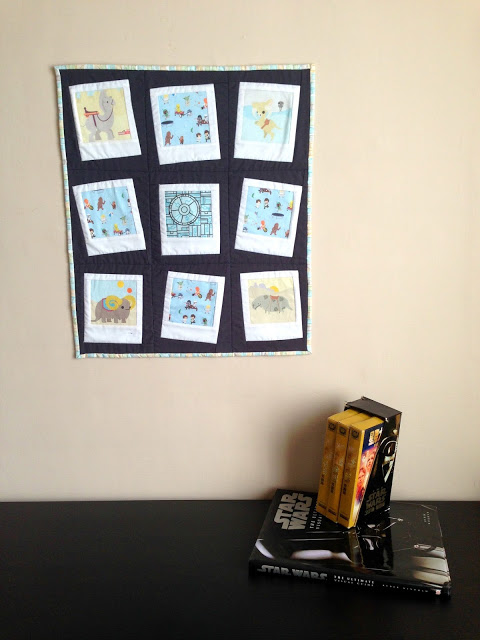 Now I'm not saying that everyone should own Star Wars on VHS tapes, but.. everyone should own Star Wars on VHS. Bonus points if it's subtitled in Chinese (as pictured above).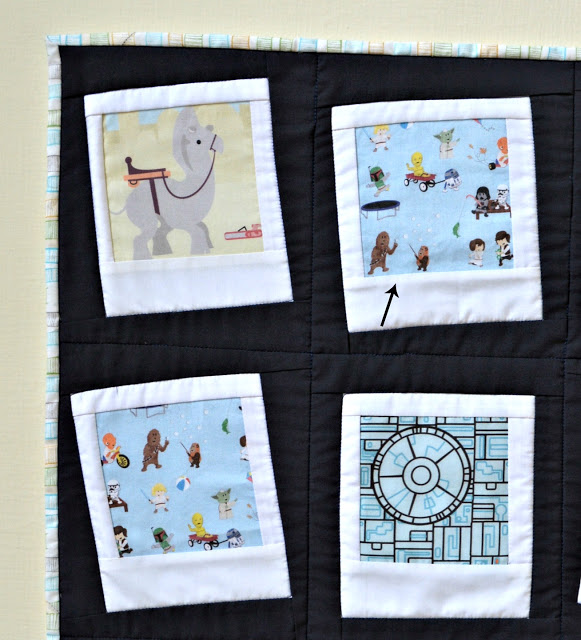 Look at the Chewie and Ewok blowing bubbles!! And Little Vader fishing, I just die..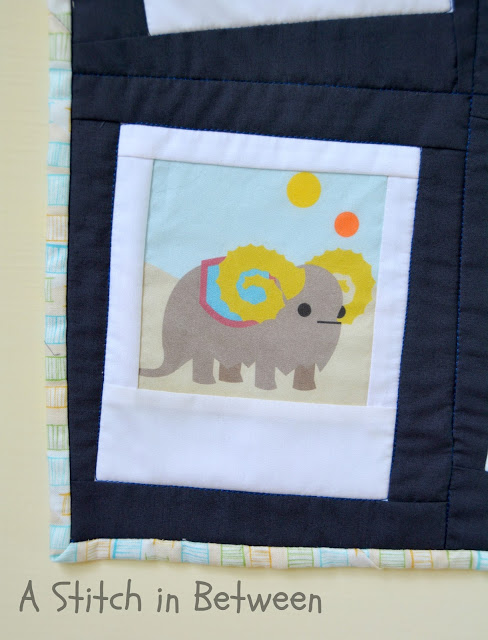 But Baby Bantha is my favorite!!
Jenya-I will be sending you this in a package this week, so keep your eye out for a parcel from Taiwan! Now everyone go and check out all the wonderful members of this Virtual Baby shower
Naeh Connection– A softie
Straightgrain-Doll's Lua sleepsack
Siskobymieke– Baby Jacket
Threading My Way – Baby Wash Cloth+fabric basket
Lil' Pip Designs – Boobook owl taggy toy
Sew Delicious– travel nappy pouch
Things For Boys -Mega bibs
Sewpony – A softie
Made By Sara– Crib pouch
As It Seams– Wisdom and advice for a growing family
Sew n Sow– Baby Hat
Nearest the Pin- Baby outfit