This is a revisit to the mini quilt I have done in the beginning of the year called Bright Sky Mini. The creator of the full size pattern
Alyce from Blossom Heart Quilts
had asked me if I wanted to participate in the month long QAL and show off my mini and of course I said yes, because you guys know how I like to show off!! Plus now that I have met Alyce in person on our last trip to Japan, I feel that we are pretty much BFFs and well this is the sort of thing BFFs do for each other!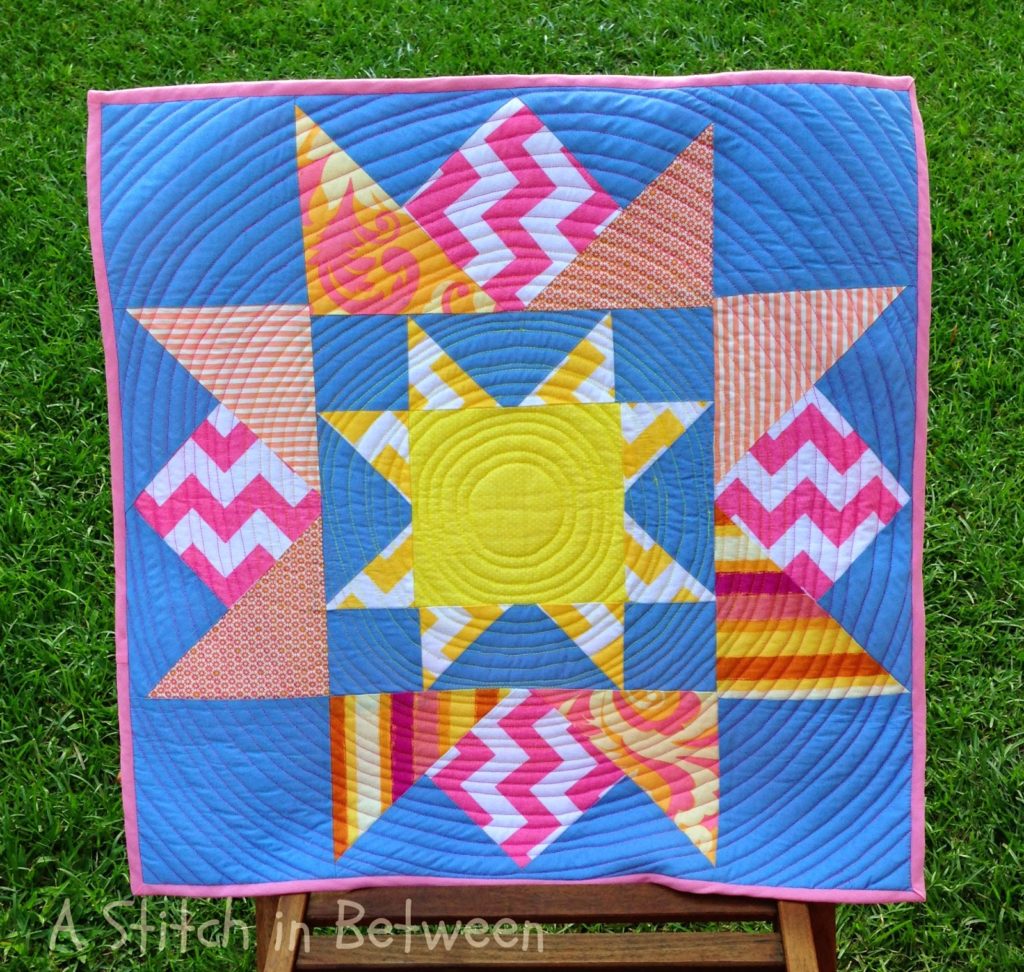 And here is another thing you probably already know about me, I am one of those "Why do it today when you can do it next week?" kind of a gal. Usually that extra stress provided me with inspiration, motivation and kind of "fly by the seat of your pants" attitude. (Completely unrelated sidenote: in Russian dubbed (possibly bootlegged) version of "Pretty Woman" the phrase "fly by the seat of your pants" was translated as "depends what kind of fly will fly into my underwear". I remember I used to think that the Americans have a very interesting way of expressing themselves O_O)
ANYWAYS, as I said usually this last minute business worked well for me but not this month. I wanted to have another mini finished but it didn't happen, so I will share that one with you later.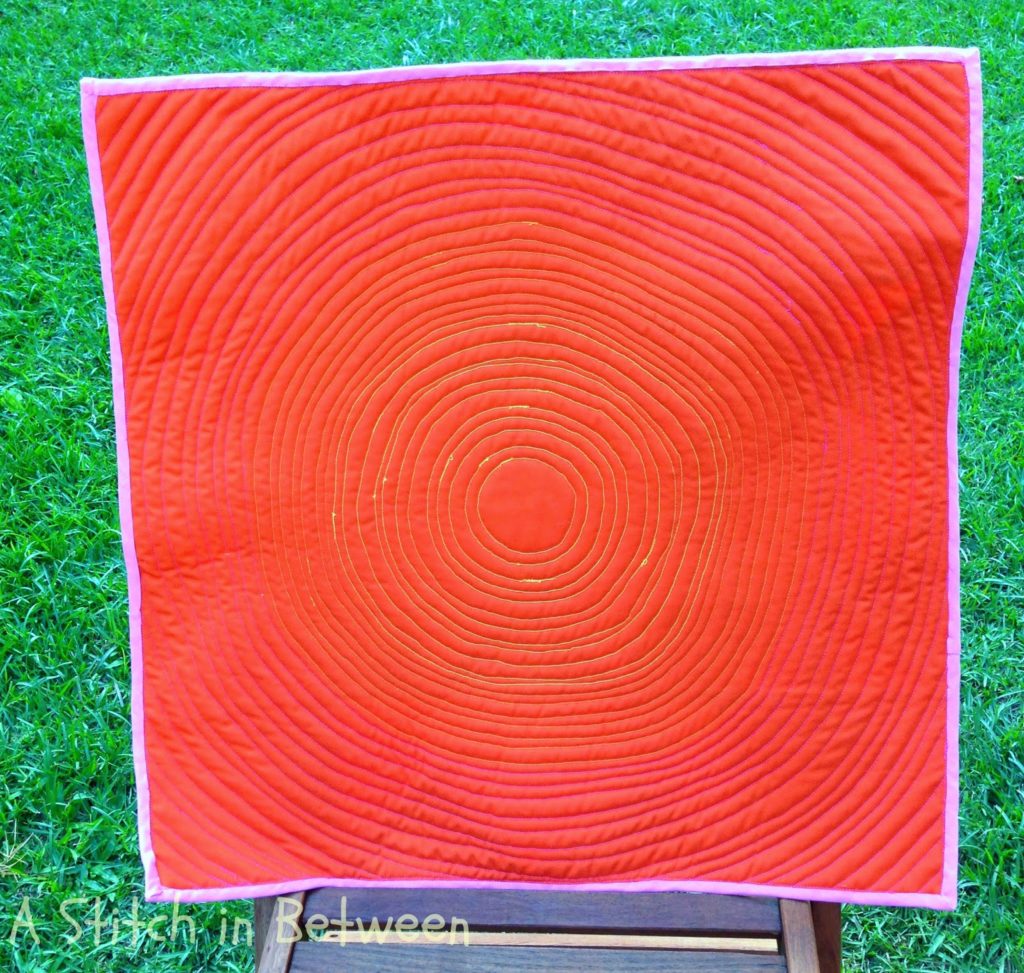 Bright Sky is a lap size quilt that comes together pretty quickly (it's like a giant quilt block which is pretty awesome) but I am still very intimidated about quilting large quilts (I still have nightmares about a twin size bed quilt I "quilted" in one day under a super stressful deadline). As I still wanted to give justice to the pattern I decided to miniaturize it.
I just converted it straight from inches to cm but I didn't take into consideration the seam allowance, so things got crazy quickly! I worked it all out in the end, just don't look closely at my points or seams, but I am currently working on another Bright Sky Mini and I converted it while removing seam allowance and it comes together much more smoothly.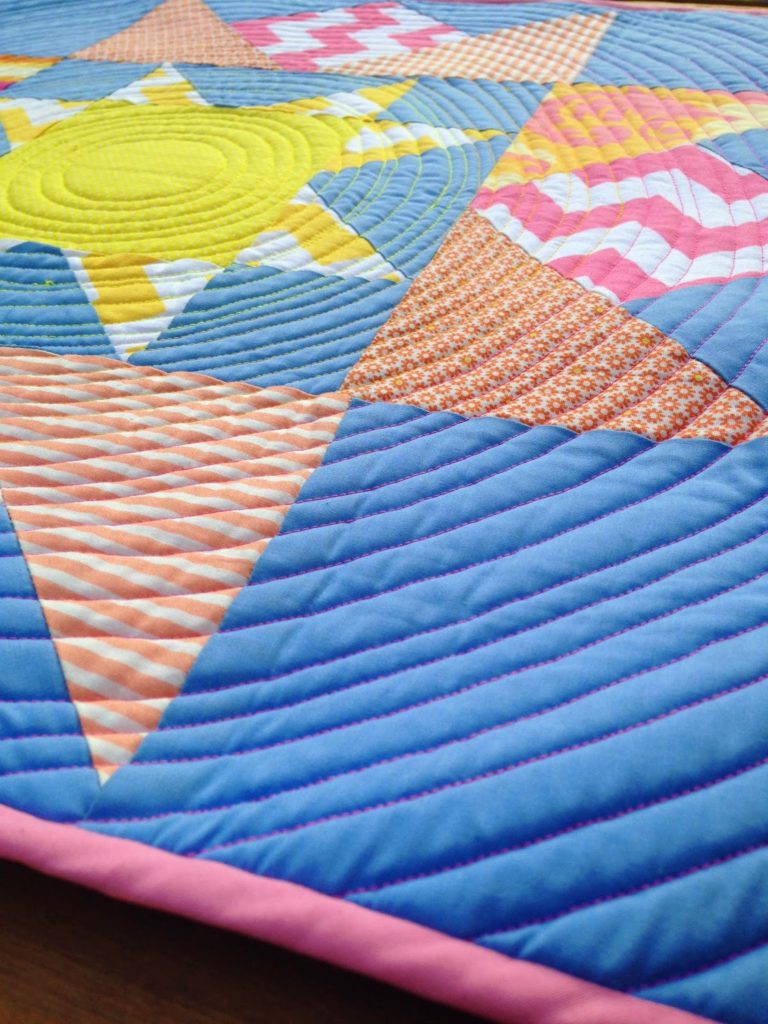 I quilted this mini in circles using a walking foot and only drawing the initial circle (tracing around a cap I had laying around). After that I just loosely followed seam guidance as I wanted an organic "sun rays" look.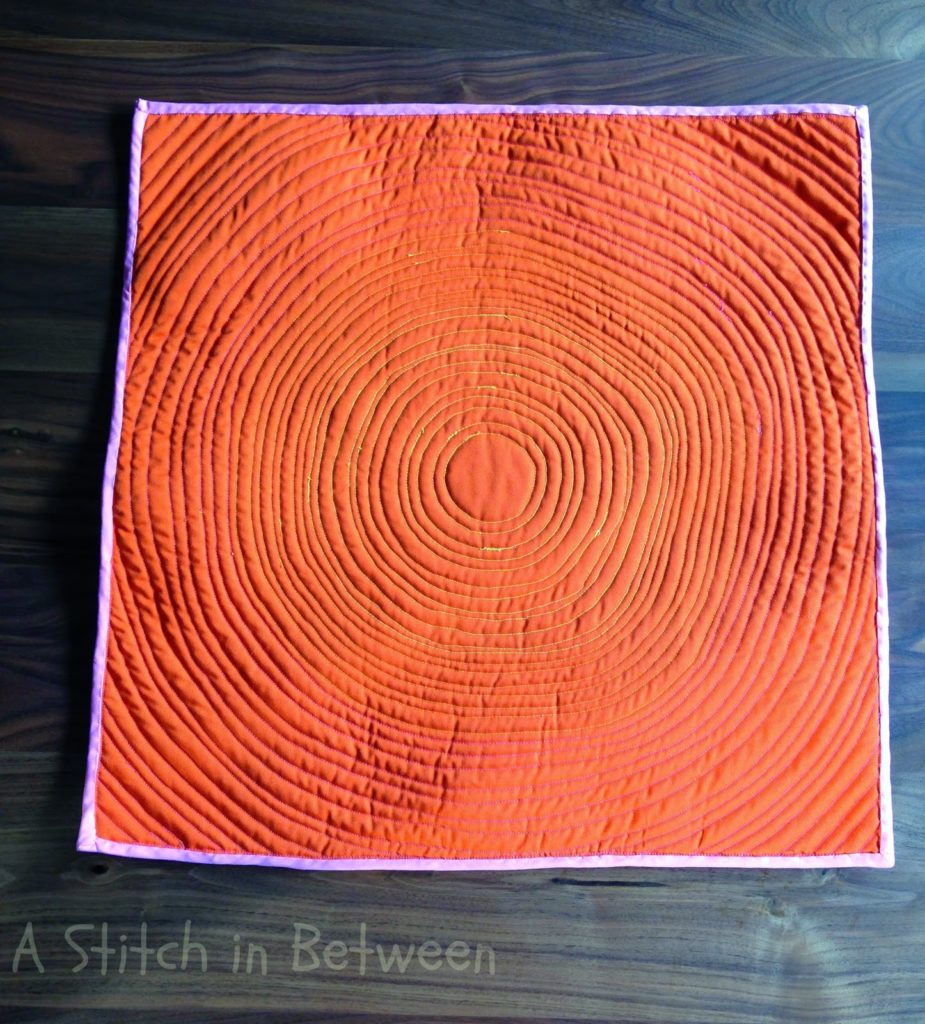 It's quilted in three thread colors: yellow-orange-pink, that doesn't really show up in the pictures but more obvious in person. Binding is a pink bias tape that I machine stitched in the front and hand stitched in the back. And if you are wondering about the quality of my pictures, it is due to us losing the usual camera's charger during our Japan trip, so I had to use less than stellar equipment.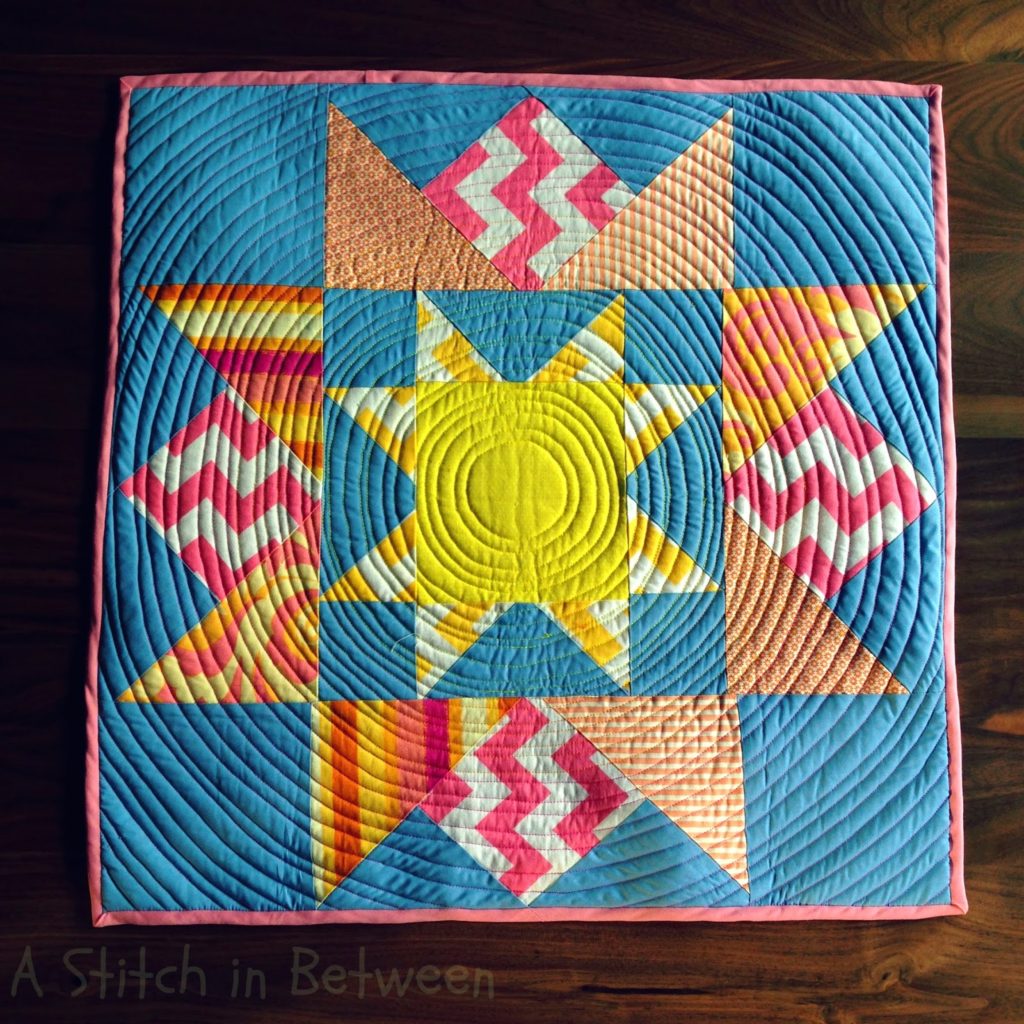 Hope you like my mini version of the pattern! You can find the pattern
HERE
and the full schedule of quilt-alongers is here:
Week 3: Piece Quilt Top + Backing
Monday 20th October – BHQ
Wednesday 22nd October –
Ms Midge
Week 5: Quilting
Monday 3rd November –
Elven Garden Quilts
free motion quilting guest post here at BHQ
Week 6: Final Linky
Monday 10th November – Linky opens here at BHQ for a week
Voting:
Monday 17th November – Linky closes and voting opens for Viewers' Choice award
Friday 21st November – Winners announced!