Item # 1:The Ghastlies Pillow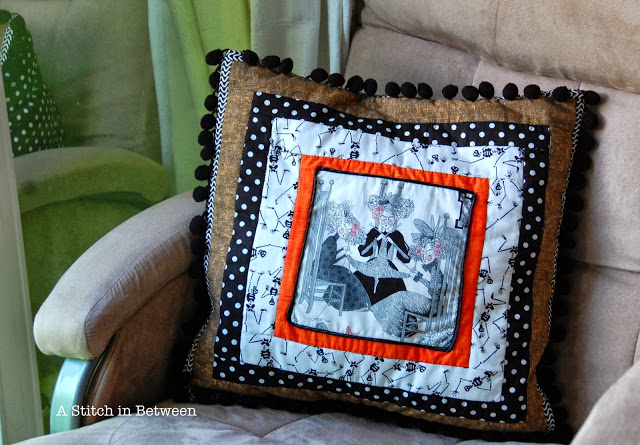 Halloween is just around the corner, two weeks away to be exact, yikes! I am completely unprepared and although have an idea for costumes, I haven't even began to put anything together. I'm pretty sure the day before I'm going to just go through my trusty costume box and end up being a pirate, sigh. Or a sexy Pilgrim..
But I have been busily stitching along Halloween themed items for a Halloween Swap put together by Martha from Bloom Where You're Planted It's a secret swap, so until my partner received the items I made for her, she doesn't know who is making them. It's been a lot of fun and I have met some awesome sewing buddies with infinite amount of sewing knowledge.
The Ghastlies is a fabric line created by Alexander Henry and actually prior to this swap, I've never known much about it but I love it. It has a very gothic feel to it with Addams family elements, which I enjoy very much! For the center of the pillow, I picked one of my favorite scenes from the Ghastlies Night, the knitting witches! I put black piping around the panel to give it a 3D look and added a pom pom trim.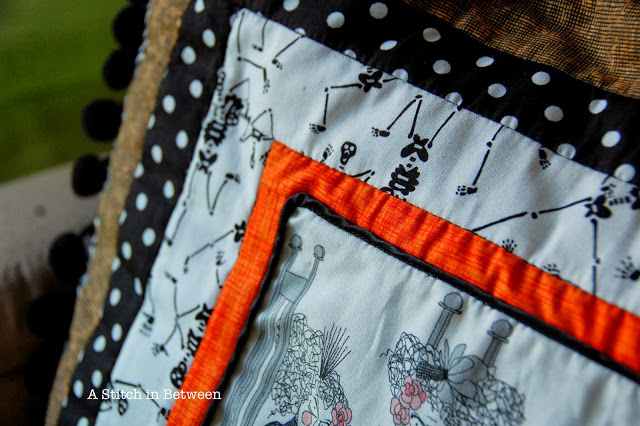 When I was searching for ideas for a good use for Ghastlies fabric, I came across this
pillow from Thimbleanna
, which is where the general color scheme and design idea came from. I really love the polka dots fabric!
I'm very pleased with the result, and hope my partner likes it as well. I'm not super happy with the back, I put metallic snaps at the closure instead of a button because I was pressed for time and it just wasn't the look I was going for. I was quite literally putting in the snaps on the day when I had to send things out, because I got carried away with the rest of the package and COMPLETELY forgot that I needed to add the button. Oopsie Daisy!
I am still in love with that pillow though.
I've linked this post at Feather's Flight Linky Party and at And Sew We Craft Hello ladies 🙂