Nothing says Spring more to me than cheery fabrics and smiling tots in bubble rompers. I would make one for myself, I love them so much, but they sadly don't do wonders for my thighs. I think rompers are perfect baby clothing, they are more exciting than just plain onesies and more user friendly than dresses (especially because SOMEBODY refuses to lay pretty in the stroller and insists on being carried in the pouch everywhere we go).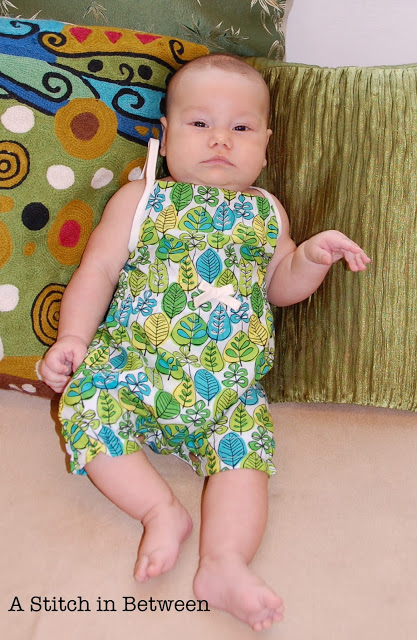 Look at that sassy hand!
I have drafted my own pattern, and let me tell you.. I'm not quite ready to do that. I should really stick to other people's patterns for now because I mess up way too often. I used a few of Aleks' store bought rompers for the general design and some of Make it and Love it tutorials (how to make a romper out of a dress and a faux shirring)
Also let me say, do you know how hard it is to photograph infant clothes on someone who can't even sit up yet? Well, it's hard. I'm still learning how to take better pictures..
But I think it still turned out quite well. Happy Spring to all my Aussies and Kiwis and everyone else in the southern hemisphere!