Remember this picture?
Last month I signed up to participate in a super fun swap, called Sweet Pouch Swap. I have read about it before on one of my favorite blogs Sew Delicious, so when Ros from Sew Delicious collaborated with Alyce from Blossom Heart Quilts to bring us Sweet Pouch Swap round 2, it was on! I, quite literally, set up on alarm for the time Alyce said she will post the sign up form and made the cut! I'm a little obsessive like that.
Alyce paired all of us up and we were to send our partner a hand made pouch filled with sweet goodies from our country of residence (Taiwan in my case). My partner Toni from Sew Jereli lives in Australia and is a fabulous sewer (sewist? seamstress? person of a needle persuasion?) So after stalking her blog, I knew that I had to make something special and hope that she wont check my inside seams, because hmm have you seen her gorgeous tips on how to finish seams?
Toni has mentioned that she likes teal/greeny blues and liked modern designs and geometrical prints, so I went on a search and found a fabric that I thought fit that description. I also thought Toni looked like a kind of a girl that would like a fold over clutch.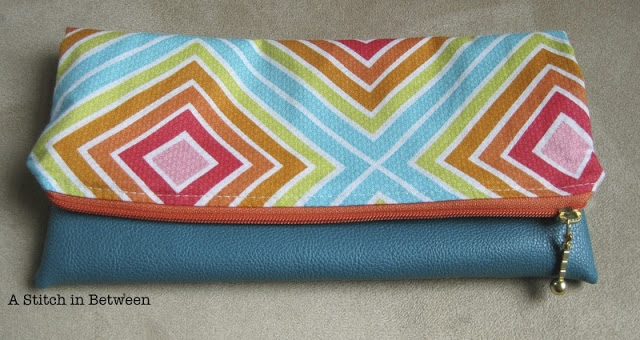 I chose a tiny off white floral fabric for lining, I thought it provided a nice contrast to the geometric design.
Here it is opened up.
I didn't take any pictures of the goodies, because I kept eating what I bought, so I finally had to stuff it in the pouch and mail it out, to avoid temptation. But trust me, there was some great stuff in there ,hopefully Toni takes a picture of it before it's all consumed 🙂
I loved making this clutch (I really wanted to keep it!) and loved participating in the Sweet Pouch Swap. I hope my partner enjoyed it just as much!