Mr. A Stitch in Between loves him some cargo shorts. If our house was ever on fire, I believe after grabbing our kids/dog/documents, the next thing would be his collection of cargo shorts. Often, the shorts cannot handle such devotion and lose their threads.
I traced around Nic's 3T shorts to create pattern pieces, because I really wanted to keep those sweet cargo pockets and 2T size wouldn't accommodate them.
I kept the side seam, the pockets and the hem, so there would be much less work for me to do! With a toddler and infant in tow, that is my newest motto. Less work equals more projects (I know it only make sense in my own head!)
Public Notice: Watching Star Trek: The original series while sewing might cause you to sew the seam from top to bottom effectively making cargo skirt instead of shorts. Proceed at your own risk! (And preferably whilst NOT wearing a red security shirt)
I used knit ribbing for the elastic casing, zig-zagged the edge, folded it in half and sewn it to the shorts. I really like the elastic band (easy to put on and take off) and the knit ribbing makes it soft and comfy.
I zig-zagged all the seams (I do have an overlock but it's threaded white and I reaaaaly didn't want to rethread it) and top stitched underneath the waist band and around the seams.
I also top stitched a faux-fly (what's the official name for it?). Don't mind that it's square, it's the design and most definitely NOT because I was distracted by a shirtless Captain Kirk.
Top stitching in a back is a bit wonky due to the lack of space between the pockets, so I still might get rid of one row of stitching. Haven't quite decided.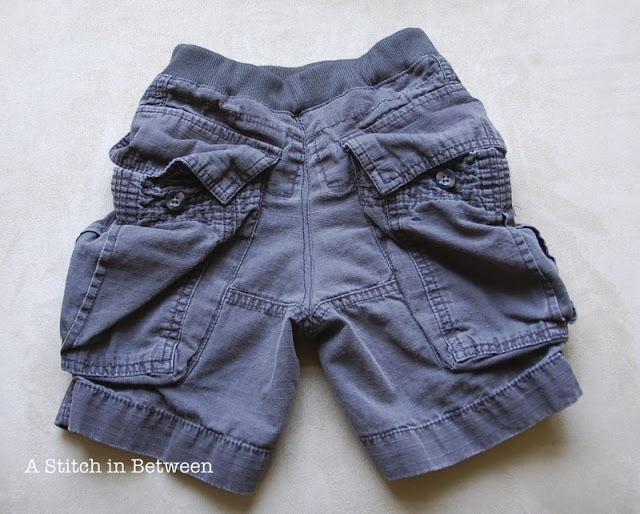 And that is that! From men's cargo to a little man miniature cargo pants. What is this magic, you say? Didn't you cut up this pair of shorts? To that I say, oh you mean you DON'T own six (6) pairs of identical shorts in various shades of grey? Hmm, looks like you are the weirdo here.
I couldn't wait to put these shorts on Nic, and of course he absolutely refused to put them on. This is coming from a kid who thinks bright green/red striped Christmas socks go with every outfit. In the end, the only way I could get a picture of him wearing them was by bribing him with some mini M&Ms. The shorts are, in all honesty, too big for him and right now it kind of looks like he is wearing a utilikilt. But he did immediately stuffed half of his car stash into his pocket. So I consider that a success and there is nothing you can say to convince me otherwise!
A reluctant model, distracted by chocolate…
Let me know if you have any questions, obviously this was a bit of "figure out as you go" project but it did turn out pretty decent in the end.